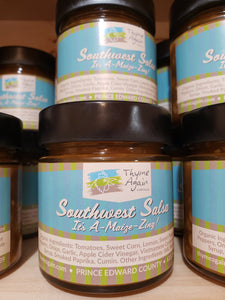 It's A-Maize-Zing!
Made with tomatoes, sweet corn, lemons, sweet and hot peppers, onion, garlic, apple cider vinegar, vietnamese coriander, maple syrup, smoked paprika, cumin, salt and pepper.
Everything but the salt and pepper is certified organic. And the vast majority of the fresh ingredients are grown on our farm!
The corn (maize) and lemon (zing) give it a truly amazing flavour!