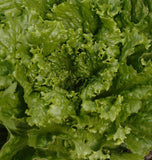 Tropicana is amazingly uniform, with crisp, green heads that boast the best bolt-resistance of any loose leaf type. It is a Batavia type lettuce that grows as a wide, open, somewhat flat rosette.
Tropicana is perfect for summer harvests of whole heads or individual leaves, and it holds well in the cooler weather of early autumn. Tropicana Organic is also resistant to tip burn and leaf scorch!
This product is available to ship within Canada. Shipping options and rates will be calculated at checkout.