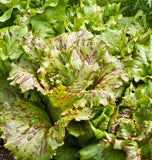 Jester Organic crisphead lettuce seeds are crisp and juicy as an apple, perfectly proportioned for a plate or sandwich. It has flashy red speckles on semi-savoyed leaves. The leaves themselves are bright green.
Jester is slow to bolt in any season. Harvest at the open head stage or later as a semi-tight, pink-hearted blanched head.
This product is available to ship within Canada. Shipping options and rates will be calculated at checkout.