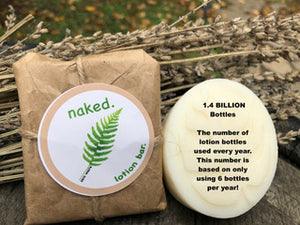 A lotion bar is a solid block of lotion, used for moisturizing skin as part of your personal care routine.
Naked lotion bars made with natural ingredients that stay solid at room temperature, but melt a little from body heat. Lotion bars take the best of natural skin care -- gentle, simple ingredients like shea butter, coconut oil and essential oils -- and pack them into a small bar, rather than a large plastic bottle. This eliminates both the plastic waste from the bottle and water added to traditional lotion.
Our lotion bars pack in all the best moisturizing ingredients, concentrated without excess water or plastic waste. Simply apply to dry areas on the body after showering. One lotion bar is equal to 2 - 2.5 bottles of lotion.