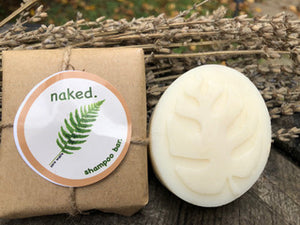 Did you know traditional shampoos in bottles are made up of 75-85 % water?
Naked shampoo bars contain no water, they are packed with all natural ingredients such as shea butter, vitamin e, castor oil and essential oils. Includes a resuable organic cotton bar bag.
Simply wet your hair and the shampoo bar and massage the bar gently on your hair. Shampoo bars will not lather or bubble like traditional shampoos because there are no sulphates or parabens.